John George takes 2 in a row at Lime Rock, CT
Lime Rock Park has gone private and track rates have gone sky high – that translated into two half days, reduced HPDE time – but still plenty of time racing for John George, Wayne Patterson, and Carl Thompson in the next to last event of the East Coast Championship. The "Cliff Notes" version is that John "Kicked Butt" in both races and set a new track record Friday at 1:01.857 and lowered it in the race on Saturday to 1:01.395.
The track is nestled in a little valley with rolling hills surrounding the newly surfaced 1.53 mile track. It is truly a beautiful setting with picturesque old homes and quaint stone churches. All of this beauty has created noise level restrictions and "NO RACING" on Sundays. The Sunday regulations aren't anything new, they where there 35 years ago when I first raced there.
All 3 of us had spent hours trying to meet the 89 db noise rating and came with exotic noise dampening devices – the kitchen sink drainers maybe the most unique. All of us were OK on Friday, but John was cited on Saturday and had to run his Super Trappe special while Wayne and Carl didn't have to run anything. It sure didn't slow John though.
John went flying from the beginning with a Friday qualifying time of 1:02.435, Carl at 1:04.716 and Wayne just a tick slower at 1:04.937. John just disappeared at the start and stayed away winning with the first new record time of 1:01.85, Carl managed a 1:03.429 and Wayne a 1:05.173
They actually ended up with some extra time at the end of Friday and John was nice enough to review the fast lines and corner "pucker factors" to see if we could get closer on Saturday. We actually had some additional time on the track and times did improve.
Saturday was another beautiful day and we sat around, fired up the grill for egg and bacon sandwiches, tinkered with the cars and waited to get started with a Driver's meeting at noon. John managed a 1:02.071, Carl a 1:02.840 and Wayne a 1:03.613, but on the last lap took an off course excursion and put his car into the Armco. It initially looked to be pretty serious front end damage (it did end his racing for the weekend), but it looks like repairs (body work, some sub-structure, a new radiator and some paint) will have Wayne back for the Nationals.
We gridded up for the race and I was right next to John on the grid. But, John just ran away again – although I did keep him in sight for most of the race. John set another lap record of 1:01.395 and Carl a best time of 1:02.539. He is just a great driver and I was unable to do anything about it. Just wait until the next time!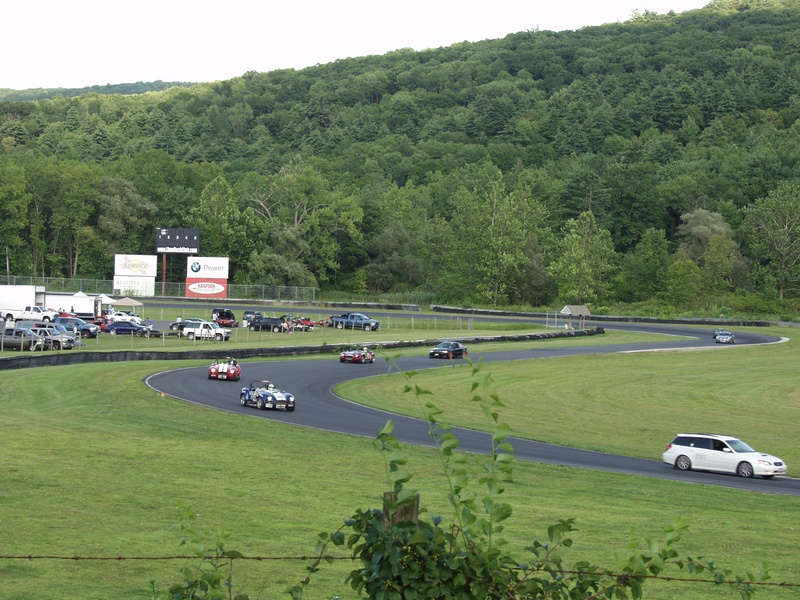 --Carl Thompson