The first race of the season started with a great turn out, many new faces. Evan's racing brought three cars out with Donny Edwards, driving the #1, James and Bobby Bondurant driving the #20, and 55.
Levy Racing brought Spenser Sharp up to run their number 9 (all the way from Arizona)
Dave Standridge (of Rennworks fame) was out with the beautiful blue #98,and Mike and John Joyce were up from Southern Calif, along with Langley Kersenboon (in the future to be called Langley K.) of LK Motorsports (building and selling Factory Five Street and Spec. Racers). Along with all of the new people the "regulars" were there also, Lawson Brothers, Ed Gavin, and Rick Anderson.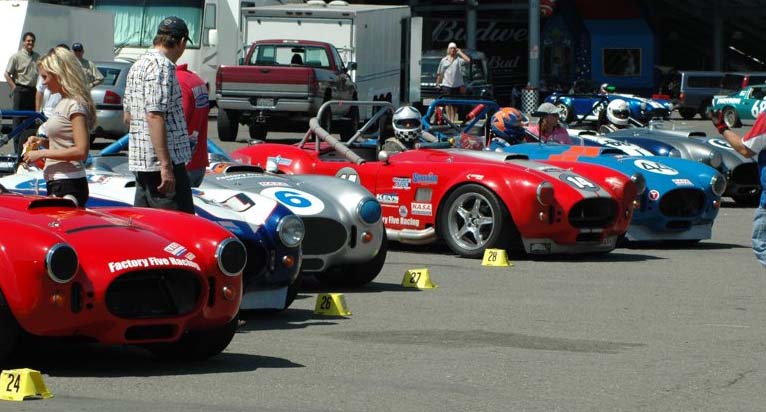 A TOTAL OF TWELVE CARS! Unfortunately the Snooks, and Keith Delaney got snowed in on the way down to the race, and had to turn around and go home. We missed them a lot.
Saturday morning rolled around with everyone itching to get out and try out the new shock package from Bilstein, which proved to b a big improvement thanks to Jim Schenck and Factory five!
The course was really wet from the heavy rain on Friday, so morning practice was very slow going. By qualifying time the track was dry and everyone started pressing the metal. Spenser Sharp (Levy Racing) was especially quick turning in a 1:53:658, with Donny Edwards, and Dan Lawson respectively coming on in second and third.
At impound after qualifying ride heights were checked with everyone passing. At 2:30 we lined up on the track for a "STANDING START" I don't know how many of you have done this before, but what a GAS! Twelve Challenge Cars all lined up and revving their engines, popping the clutch, and shooting up the hill through turn one and two! Spenser Sharp took the lead early with Donny right behind, Dan Lawson and Lang K. fought door to door all the way to turn three before Dan squeezed into third. After about two laps a CMC mustang flipped in the dangerous turn 10! The fastest turn on the course, and brought out the full course yellow! This lasted for five laps while clearing the track, and also brought the Challenge Cars up to the slower CMC's for the restart (Which had been staggered) that became an issue as the green dropped, a lot of traffic and close racing ensued. Donny who is a master in traffic took advantage and stuck Spenser behind a couple of slower cars taking the lead. Spenser to his credit didn't over react settled in and started picking people off on his way to catching and passing Donny a few laps later, and driving flawlessly for the win. Dan Lawson held on to the last podium spot for third. The Official results were
1- Spenser Sharp 1:53:994 – fastest lap
2- Donny Edwards 1:54:977
3- Dan Lawson 1:57:229
4- Langley Kersenboon 1:59:338
5- Bobby Bondurant 1:59:378
6- Ed Gavin 2:01:835
7- John Joyce 2:02:950
8- Rick Anderson 2:01:554
9- Dave Standridge 2:01:046
10- Bob Lawson 1:57:509
11- James Bondurant 2:16:549
There were battles all over the track and some really exciting racing. Afterwards everyone sat around having beers, I think we ran the race at least five more times!
James Bondurant's car lost a clutch, and bent a valve and was out for the weekend unfortunately, this guy is a real comer. Bobby's car was getting sorted out all weekend, and continually got faster. Both drivers are very capable and a pleasure to race with. As were all the new comers to the series. Bob Lawson was fast all weekend but overheating kept him from the podium.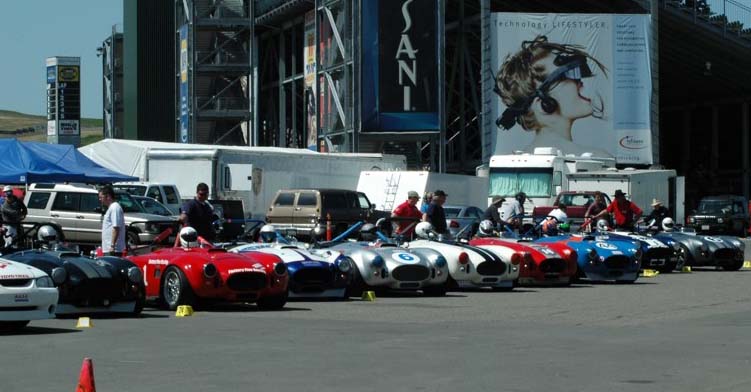 Sunday morning rolled around, another beautiful California day…and just think NO SNOW…no Cheney…alas…
The morning session showed Donny running a 1:56:33 +-. and Dan running right behind at 1:56:67 or something. Levy racing did not go out in the morning session.
Qualifying showed that Matt Carpenter (Evan's Racing Team Manager) had done his homework as Donny's times improved even more, but so did Spenser again setting fast time with a blistering 1:52:791.
Again another standing start, (every popular with the crowds) everyone did a great job, as Donny took the lead Spenser right up his pipes. Dan L. was close behind with Langley and Bob Lawson pressing him hard. Langley, Bob, and Dan had their own little war going on, as did the two leaders! Langley dove hard into turn 11 and slid into Dan, with Bob taking evasive action motoring by both of them. Dan took off in pursuit of Bob, and Langley recovered again taking up the chase. All the while these three were battling the leaders increased their lead.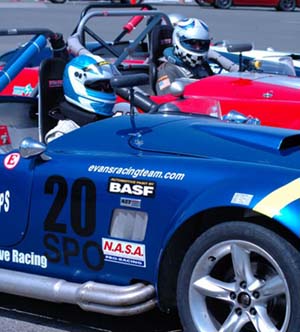 In a big disappointment Bob's car again overheated allowing both Dan and Langley to pass him just before dropping out. The battle with Dan and Langley continued on with both passing Spenser in the ailing Levy #9, (it was unfortunate they deserved a better ending), Donny by this time had checked out…. and was on a rail!
Dan and Langley were going at it until Dan had brain failure and missed the apex at turn 10! The fastest turn on the track, spinning and barely stopping before the dreaded crash wall. After cleaning his shorts he continued on but had dropped to far behind to catch the two leaders finishing third.
As of today the finishing order was Donny first and Langley second, but the incident at the beginning of the race caused Langley to be disqualified by NASA. So the official order of finish is:
1. Donny Edwards 1:52:208 –fastest lap
2. Dan Lawson 1:55:984
3. Bob Bondurant 1:57:544
4. Ed Gavin 1:58:265
5. Mike Joyce 2:01:141
6. Spenser Sharp 1:53:172
7. Dave Standridge 2:00:808
The following we DQ'D
Langley Kersenboon 1:54:860
Bob Lawson 1:55:731
Rick Anderson 2:00:810
The next race in the series is at Phoenix International Raceway in May; check the schedule on the spec-racing site for the exact weekend.
We hope to see everyone there!
Dan Lawson