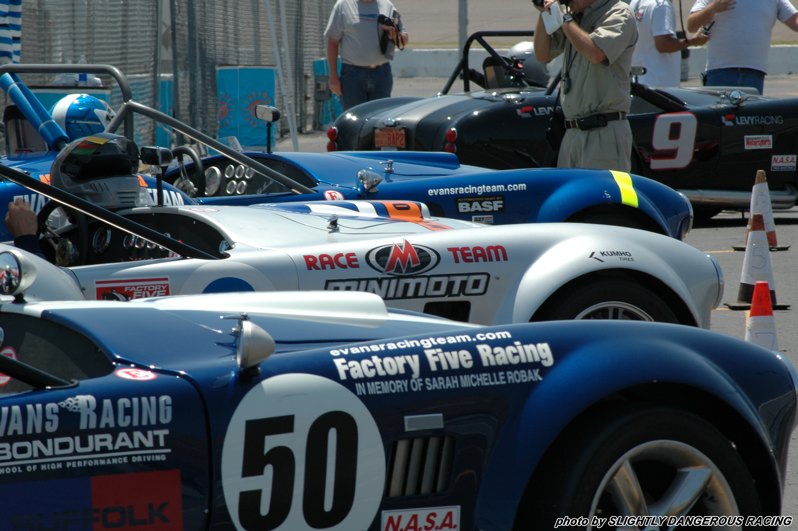 The West Coast's second race of the season, although a very long drive for most, was highly anticipated. Due to the famous track, this being the first official NASA Arizona region FFR event, and Dave Smith and Dave Riha were coming out in support with their cars from the east coast!

Region streetcar owners showed up in force, putting on a great display of Roadster's for everyone to see. FFR Roadsters dominated the entire weekend.

A special bit of thanks needs to be directed to Levy Racing, from all of his crew, to Spencer Sharpe, and the man himself. They helped work on many cars, rented garage space fro all, and threw one great BBQ Saturday night.

The garage space may not sound like that big a deal but remember were had "16", yes sweet sixteen racecars at this event! AND the weekend showed record high temps everyday, the coolest being 106 to the high Sunday of 113! Trust me when I say the shade was much appreciated.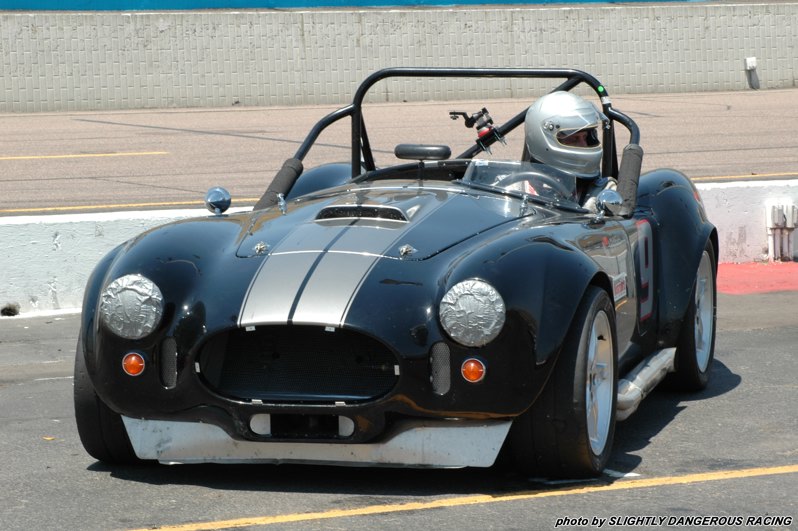 Hometown tracks are very good for any racer, and his fans. Spencer Sharpe's fans were in for a treat, and the east coast men better be prepared! Spenser ran a clinic of speed dominating the entire weekend winning both days.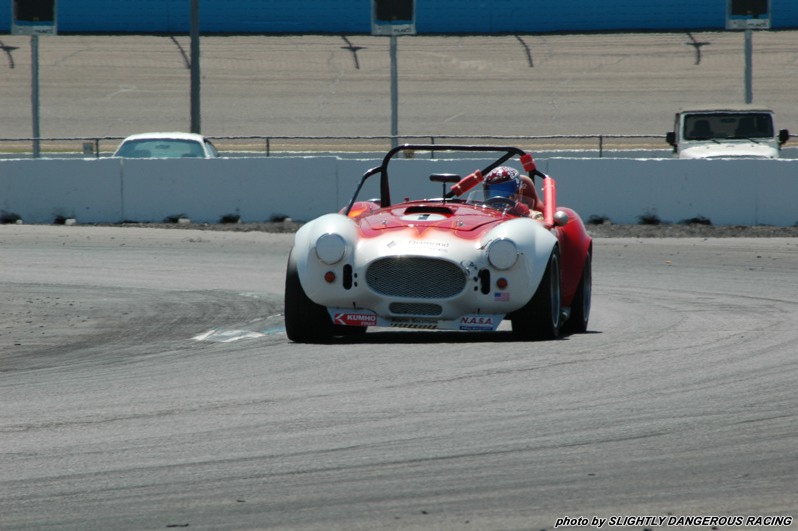 That's not to say he went unchallenged. Donny Edwards currently leading the West Coast Challenge series points, brought out Bob Evan's beautiful red and white "flamed" number 1. Both James and Bobby Bondurant were driving Evan's cars. 2003 Series champ Bob Lawson was there in the Factory Five West #11, and Langley Kauserbooon in his number 6 beautiful silver spec racer in only his second weekend of running was showing a heavy foot (by the way he also has an even more beautiful brand spanking new spec racer for sale at LK Motorsports! Other newcomers were Peter Nash, Robert Woods coming out for their first event, both running very well. Mike McGovern the lead driving instructor at Bondurant's Driving School, brought out the #19 from there to run. Bob Bondurant came out to cheer on his son Bobby (a very fast man), and his grandson James (#2 drifting king in the nation) Rick Anderson, Mike Easton, Dave Standridge (Rennwork BMW fame), and Mike and John Joyce "Slightly Dangerous Racing" were also on hand, and running very well in support of the largest ever field for a race other than the nationals!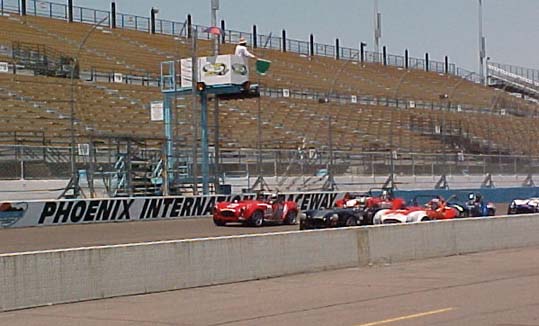 With this many entrants the show was great 16 roadster's coming down the straight at PIR! When the green fell on Saturday Donny and Spencer blasted into turn one side by side with no daylight between them, with Dave Riha and James right behind. As the dust settled in turn two Spencer was leading and took off. Putting on a show of talent, never looking back taking first. There were battles all over the track, Dave Riha and James switched positions dozens of times, sometimes each passing the other in the same lap! Bob Lawson and Langley traded positions battling hard. A few cars were in the battles but fell out, Mike Mcgovern was battling with James and Dave but his T5 gave out. What a shame, as it was a beautiful battle. All of these iron men were racing hard in 110 degree HEAT!

The really only unfortunate item was Rick Anderson got out of shape coming onto the back straight almost head on into the wall just stopping short, but James Bondurant happened to be passing out there and the two collided, doing extensive damage to Rick's car, and a lot of body damage to the Evan's machine.

After the race everyone started repairing cars, took a break for Gordon's Ribs, and some welcome COLD BEER, then got back to work well into the night.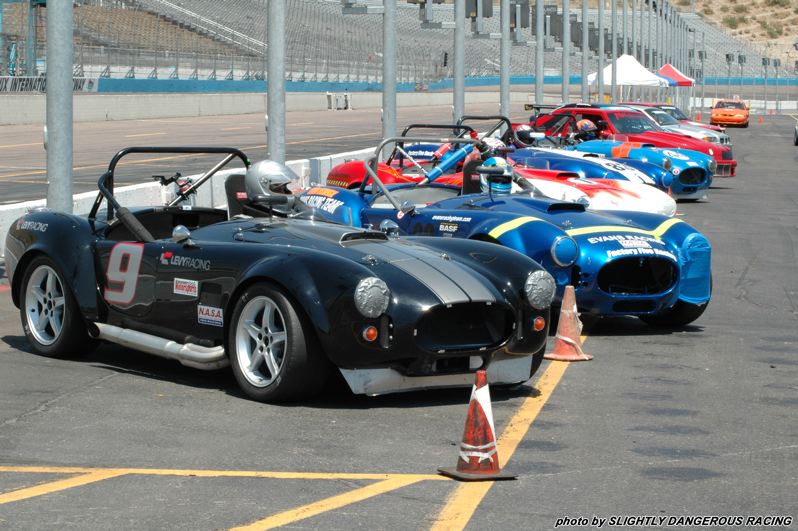 Sunday morning arrived 10 degrees hotter than the day before at the same time! Track times in qualifying were a little slower than the day before, EXCEPT for Langley …. A 1:06 and change! As he himself put it, "I turned a really good lap, but I think there was a mistake in timing".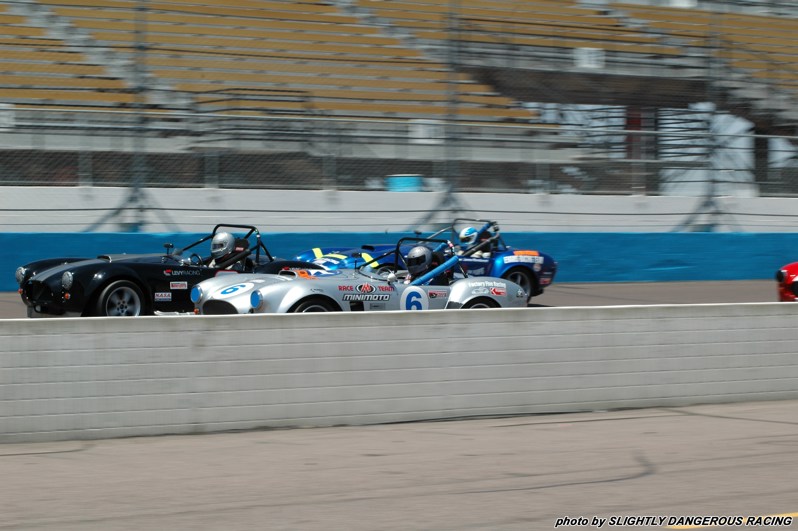 There he was bringing the field down for the start, as the green flew both he and Spenser took off, but James got a terrific start going into the first turn three wide! It was a awesome sight, James gave it a hell of a try, but couldn't hold turn two going four off, keeping his foot in it, and getting back on track, but costing himself many positions. Donny was also in the thick of it but the fuel system gave up leaving him on the sidelines.

Again Spencer took the lead and couldn't be caught. A flawless ride!

Langley fought off James challenge after he recovered passing cars left and right to try to catch Langley taking the last podium spot.
The race was amazing, John Joyce and Mike Easton although toward the back of the racing field had an incredible battle, they must have passed each other fifteen times in thirty laps, as did Robert Woods, and Rick Anderson more toward the middle of the field! There were battles everywhere! A great show to watch. No matter where you looked on the track there were very hard fought wars going on every bit as intense as the heat, it didn't matter if it was for first or last.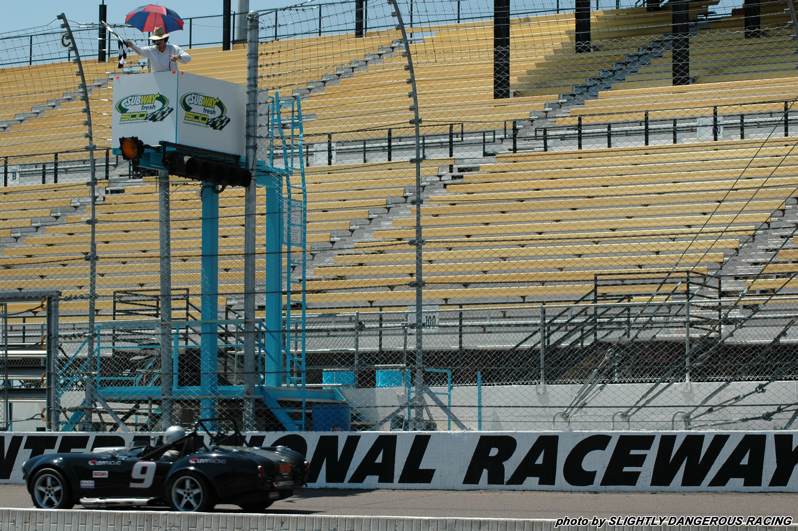 The Factory Five Challenge contestants put on a terrific show for all to see.
GREAT RACING, CONGRATS TO ALL………………..to be continued in June at Thunder Hill….. Keep your wheels down and see you there.

by Dan Lawson
---