The 2005 Factory Five Challenge Series started at VIR with the Charlie Gibson 300. The weekend consisted of a short sprint race on Saturday and the feature endurance race on Sunday. Most of the Spec racers practiced on Friday and a huge number of students came out for the HPDE schools. Roadster drivers represented a big percentage of the weekend's participants and the entire event had the feeling of a "mini Nationals".

Marcus Motorsports (Richmond, VA) had a lot to do with that because of their fleet of FFR Challenge Cars being used by the drivers who came across the line in positions 1-4 at September's VIR Nationals. Students included a father-son trio with Bill Fitzhugh (Midlothian, VA), John Fitzhugh (Richmond, VA), and Will Fitzhugh (Richmond, VA) all running. The husband and wife team of Phil and Michelle Kaiser (Troutville, VA) were joined by David Wintner (Wilmington, DE), Phil Farruggia (Edgerton, KS) in running cars with Marcus Motorsports. Other students (and I apologize now since I know I am leaving some off) included Leonard Whiteside.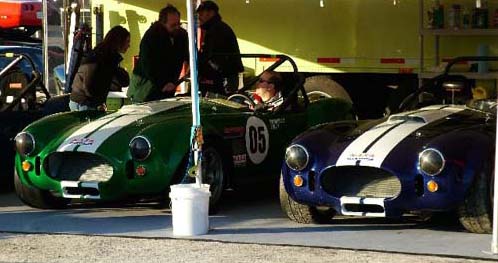 Marcus Motorsports Arrive-&-Drive cars

Perhaps the most attention came to Phylicia Gray (Morehead City, NC), a statuesque redhead who attended the VIR Nationals and decided to buy former racer Leonard Conn's car. Gray has decided to get her license and become the series first regular female participant. Driving in high heels in car #69, this former police sheriff showed she could mix it up with the boys, but had to replace the clutch on Saturday afternoon. By Sunday her husband Mike had become so enthused that he bought a car from Marcus Motorsports to take home that night and was planning to get registered himself for the next HPDE.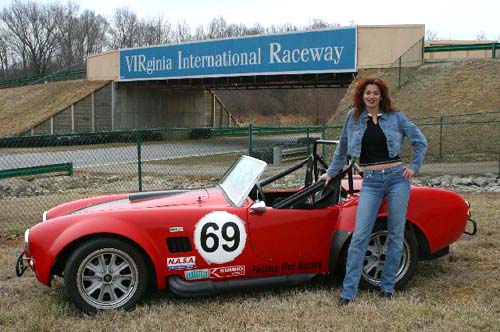 New driver Phylicia Gray at VIR

With the race emphasis being on the enduro, Saturday was mostly about practice. Factory Five company owner Dave Smith (Wareham, MA) had been very fast with his Type 65 Coupe on Friday but switched to his wicked-fast Rousch-powered spec racer when the ignition box developed problems. Unfortunately he had to leave unexpectedly and we didn't get to see the cars in the races. (Fellow Coupe owner Bob Piscura (Lynchburg, VA) was an instructor and set the lust factor high when he took his car out during the instructor sessions.)

Only Ed Boothman (Orlando, FL) and Dan Elam (Richmond, VA) signed up for the sprint race. Elam missed qualifying since he was instructing and would start from the back of the pack, but with some concerns over fuel since his father and fellow instructor had been out in the previous session and there was no time to top off. Boothman, beginning his second season, had qualified with a solid mid-pack performance. For the start Elam picked up a huge number of positions as the rookies and slower cars moved out the way with his run down into turn one. He ran out of gas in turn 2.

Elam got the car restarted and limped into the pits for some fuel before he got back on track. He drove hard to get back into contention (and at one point had a long flying off around a corner and down a hill as he tried to avoid slower traffic). In the end Boothman had a solid overall finish and his second class win.

With the preliminaries out the way, attention turned to the Sunday race as competitors anxiously checked the weather to see if they would face dry, wet, or sleeting conditions. (Fortunately it stayed dry the entire race.)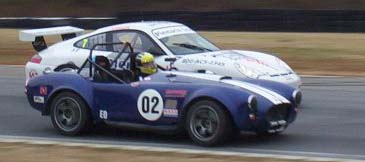 Defending FFR Nationals champion (and track record holder) Spencer Pumpelly (Mason Neck, VA) was the fastest Roadster and an impressive fourth overall. No one was surprised after seeing his strong driving just days before during the 24 Hours of Daytona. Also near the front were 2004 FFR Mid Atlantic champ Brian Cates (Broad Run, VA), Brian Cunningham (Danville, KY), and Factory Five's own Dave Riha (Wareham, MA) and Jim Schenck (Wareham, MA). This year's field was very fast and it appeared that it would take a little luck to continue Factory Five's string of podium finishes in the race. An exceptionally fast GT-3 Grand-Am Porsche started first overall and a variety of low slung sports racers looked to have the upper hand this year. A strong BMW M-3 World Challenge also was positioned near the front.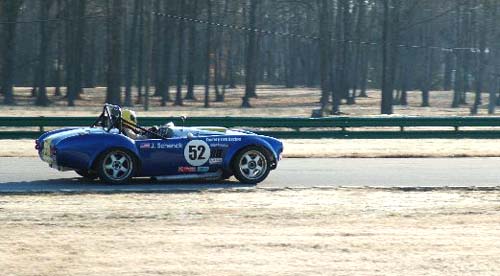 Jim Schenck in practice (Pic courtesy of Finish Line Productions)

Making the field was a talented young driver transitioning from karts to FFR Challenge cars. Kevin Eves (Guyton, GA) started in the car for the team of Ed Boothman and Peter LaRose (Northville, MI) and drove a very strong first stint in the silver and stars car. It wasn't a surprise since Eves is the current SCCA Legends track record holder at Roebling Road. Harry Elam started near the back – a victim of Dan Elam missing the Saturday qualifying session. The exceptional stable of Marcus Motorsports' planned drivers included Miata-cross-over Chuck Reyes (Chester, VA), Nationals third place finisher Rob Mau (Montpelier, VA), American Iron champion Brian Smith (Richmond, VA), Frank DePew (Midlothian, VA), 2003 SCCS champ Chris Mitchum (Herndon, VA) and Andy Lally (Northport, NY) fresh off his 5th place finish at the 24 Hours of Daytona and the defending champion of Grand-Am's SGS class.

After two laps of double yellow with the pace car, the green flag dropped and all the roadsters had a nice jump on their torque-limited competitors (well, not the Porsche). H. Elam made up a lot of ground early only to get clipped by a rookie Miata driver who sent Elam for a long ride through the grass right in front of the starter stand.

The field immediately began to stretch out with Pumpelly running near the front, but engine problems retired the car after just six laps. Riha, Schenck, Cunningham, and Cates all were running very well and Eves was doing exceptionally well for his first race in the car. As the race neared halfway it was the remaining roasters all within a lap and running pretty well. Attrition began to take it's toll on the competitors and class and overall positions began to be dominated by the cars from Factory Five.

But then attrition began to catch up with the FFR crowd as well. Cates ran out of fuel and then transmission problems retired another of the Marcus cars. Riha developed transmission problems and was forced to limp around the track. Keep in mind that Riha's 'limping' was to the tune of 2:13 lap times.

After the driver change, Dan Elam set forth to make up some lost ground and pulled away from Riha and Boothman before being black-flagged for his side-pipe falling. Remember the same issue during the 25 Hours of Thunderhill, Elam jumped from the car and ran to his trailer to get wire and the crew wired up the sidepipe so he could go back out. When Elam came from the pits Schenck was coming down the straight. Not realizing that Schenck was still fighting for position, Elam held his line through turn one and the two traded position for a lap or two until Elam was able to get clear of traffic and begin pulling away.

Meanwhile Riha and Schenck continued to move smartly through the field even with Riha's transmission troubles. Factory Five had decided to hedge their bets by having Riha run slicks while Schenck ran the standard spec tires which put them in different classes. Riha, the 2004 class champion, maintained a nice steady pace while hoping his tranny wouldn't fail entirely.

While the factory team continued with a couple lap advantage at the front, the privateers kept plugging away. LaRose and Boothman stayed out of trouble as Elam watched Cunningham and Schenck fight through traffic behind him. Reyes and Smith were quietly consistent as they moved up the leaderboard and impressed the other teams who could only wonder about this team with drivers who had never raced the car before.

With about a half hour to go, Elam pulled off in turn 3 when an electrical problem caused the car to stop running and couldn't be restarted. It extended his string of 13 consecutive races at VIR with a mishap.

Cunningham began taking it easy in the latter stages as slower cars began contesting every corner in their fights for class position. What seemed smart at the time turned into heartbreak later as Cunningham missed the podium when he came up just eight-tenths of a second behind a quick Honda S2000. Cunningham did end up setting the fastest lap of all the roadsters in the race with a 2:11 for VIR's full course.

When the dust finally settled it was the ever-fast and reliable Porsche with top overall honors. But Schenck and Riha defended the honor for the FFR faithful by finishing second and third overall (and first and second in class). The Reyes/Smith team surprised everyone by earning a hard-fought second in class and 5th overall. Almost like it was planned, a light rain began to fall as the cars took the checkered flag.

The Boothman car ended up 26th overall and 5th in class. Team Elam finished enough laps to hold onto 7th in class (37th overall).

The record crowd and very fast lap times had everyone enthused. The privateer teams would have preferred to run up front, but everyone was glad that FFR cars earned space on the podium. Some of the drivers will compete at Road Atlanta in March, but most will have their sights set on Mid-Ohio (April 2-3) a few weeks later as Bryan Dobyns tries to defend his East Coast Challenge championship. VIR had seven drivers near or faster than his previous track record and they proved they can be fast – but they haven't proven they can beat him.
Contributing Editor: Dan Elam