Kumho: Official Tire of Series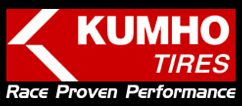 We'd like to take this opportunity to announce that Kumho Tire has agreed to be the official tire of the FFR Challenge Series. With the final acceptance, Kumho would be committing to a contingency program valued in excess of $30,000 for the 2006 racing season.

Like the other contingency programs, this one would be based on participation and not finishing order. Everyone who starts a NASA race anywhere in the country will have an opportunity to participate. Tire packages will be awarded at various points during the season for those who meet the program requirements.

Contingency forms and rules will be up shortly at www.FFRChallenge.com


Thanks to Kumho's generosity, this means that the FFR Challenge Series has potential sponsorship and contingency programs valued at more than $100,000. This success means that the series is one of the best-funded and most lucrative club racing programs in the country.