Six Challenge Cars Battle at OH/IN Season Opener
Lexington, OH -- This past weekend, April 22-23, six racers gathered at the newly re-paved Mid-Ohio Sports Car Course to do battle in the OH/IN Region season opener. In attendance were region regulars Brian Sanders (Cincinnati, OH), Ed Boothman (Naples, FL) and Peter LaRose (Northville, MI). The other three, each traveling a considerable distance to drive the famous 2.4 miles, were Tony Johnson (North Wilkesboro, NC), John George (Nashua, NH), and Gary McDaniel (Kansas City, MO).
All drivers except McDaniel showed up on Friday to take part in a test and tune day. With Mid-Ohio tearing up the old track surface and removing all the concrete, this was to be a new experience for everyone. The old concrete patches served as racing markers for many of the turns, so everyone was trying to find the line and new markers. The new surface, this was only the second weekend of use, proved to be quite a handful and very slippery. It was also only the second time we ever ran the "club course" which includes a chicane just before the famous "keyhole". But as the day wore on and rubber was put down, everyone was loving it. Friday ended with rain showers and thunderstorms moving in.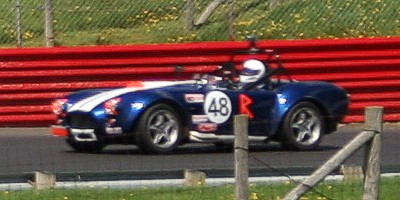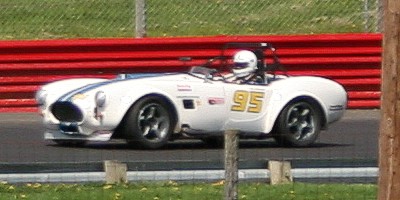 John George Gary McDaniel
By Saturday morning the rain had stopped but left the track very damp and slick again as the previous days rubber was washed away. Most drivers turned a few laps in the morning warm-up session and then retired to the paddock to wait for the track to dry and get some heat into it. And the wait was worth it! Qualifying showed that rubber plus heat yields better lap times. Tony Johnson walked away with the fastest lap and a new track record. He was followed by George, Sanders, Boothman and McDaniel. Peter LaRose was still battling with his car and did not get a qualifying time.
Saturdays race was filled with many surprises. It all started with Johnson having a 2-3 row head start over the other Challenge Cars, which he took advantage of while George and Sanders set up for their first battle. The field consisted of FFR's, AI and CMC cars and everyone found someone to race with. On lap 5, Sanders was able to draft George down the back straight and pull past into the braking zone. After settling in behind Sanders, George set out on planning his attack to take his position back. He got his chance on lap 11, with both cars drag racing down the front straight and George with a better line into turn one. Sanders stayed close on his heels until he spun over the jump into Thunder Valley. This seemed like the end for Sanders and he would have to settle for third place. However, coming down the back straight, Sanders saw that there was a full course yellow! He hustled the car and caught up to George behind the pace car. The track went green with two laps to go and Sanders got the better re-start overtaking George into turn one. With the cars being bunched up, Sanders was able to put a couple back markers between him and George to secure second place behind Johnson. McDaniel, Boothman, and LaRose rounded out the field.

Sanders passes George in turn one to take second place. Photos courtesy of James and Megan Forbis.
After the race, Brian and Gary sat down to become better acquainted. Talk soon turned to the track. Brian shared some pointers and Gary certainly put them to good use, turning his best times of the weekend on Sunday. Once again the rain fell Saturday night washing the track. Sunday morning came and the rain had stopped but the track remained wet for the warm-up session. several of the drivers opted to sleep in and skip the morning warm-up. George went out and came back in with the car acting up. After spending an hour or so messing with the timing and other things, he felt the car was in better shape.
Sunday's qualifying was decided to be run as a qualifying race with the grid being set by Saturday's finishing order. All drivers approached this session with some caution as they had few or no laps that morning. About mid-session, George passed Sanders only to take an agricultural excursion on the outside of turn eleven. This caused him to start the race some seven positions behind Johnson and Sanders.
Johnson and Sanders started the race nose to tail but this was short lived as Tony quickly pulled away and went on to set a new track record of 1:45.573 and the win. But this was the start of Brian's woes. Almost from the start, he was battling a nasty push and having to slide the rear-end just to turn the car. He was also experiencing higher than normal temperatures and felt the car was laying down on power. It was John who took over second on lap nine. Then it was Gary's turn, passing Sanders on lap fifteen. Now in fourth place, Brian wondered if Ed would catch and pass him. Lap times showed, in fact, that Ed was catching him; however, there was just not enough laps.
I'd like to thank each driver for coming out and making this the largest Challenge Car field in a regular OH/IN Region event. This reporter has definitely made some more good friends! The next event is an ECS race at CMP in Kershaw, SC followed by trip to Putnam Park in Indiana for a cross-over event between OH/IN and Midwest.
C'ya at the track!!
--Brian Sanders