NASA Midwest Makes First Visit to Mid-America Motorplex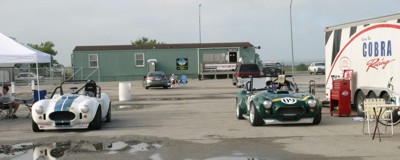 Here's the down and dirty. Gary McDaniel and Lyle Riggen were the only FFR Challenge Series cars that were in attendance this weekend. Randy was unable to get his car back together in time after his unfortunate deforestation efforts at Brainerd. Lyle almost didn't make it due to his efforts in mosquito population control in Western Iowa. An oil line broke on the tow vehicle about an hour from the track causing him to miss Saturday.

So, Gary started the Group A (SM, GTS, and everything else that wasn't AI or AIX) race in 5th position on the grid Saturday. They couldn't get lined up for the start so they went at it again. He quickly knocked off one spot after they finally got the green and ran a pretty clean and uneventful race except for a small moment in Turn 3 which put him to 5th overall behind a very fast M3. On Sunday morning, Lyle was ready to go for his first outing at MAM. Rain Saturday night led to a few wet spots for the first practice but in the hot sun and 90+ temps they didn't last long. During qualifying Lyle found out how tricky Turn 3 can be and how high the prairie grass can get if not mowed. Gary and Lyle qualified 6th and 7th for the race with Gary edging out Lyle by a short second. This time the field was ready for the start but the starter kept them quiet up to the last few feet, so it seemed from the stands between turns 11 and 12. Gary's line had trouble getting going and Lyle took the opportunity to get an early lead. The lead was short lived as Gary got around him going into turn 5 but Lyle was hanging on to Gary lap after lap, turn after turn until a missed shift coming out of turn 15 put him back about 7-8 seconds. But a few laps later Gary had the same miscue in the same spot allowing Lyle to get back a few seconds on Gary. Gary held on to take the FFR Challenge Series win while finishing 6th overall.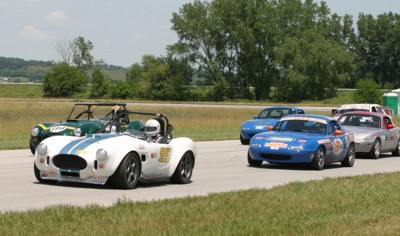 Here are some miscellaneous notes from the weekend. On Friday the oil line from the HP Oil Pump let go on our tow vehicle and we were temporarily stranded. There were a couple of people who stopped in the hot sun to see what they could do for us. One gentleman even tried to arrange his truck to tow our trailer to the track but it was already headed East for a Friday Night Feature. If you ever have a chance to help out please do. You may only be able to call for help but that may be all they need. Help arrived in the form of Hansen Towing of Atlantic, IA who took the trailer to their shop near Atlantic and the truck to Atchley Ford in Omaha. Atchely Ford had the part in stock, a diesel mechanic on duty and were open long enough to get it fixed on a Saturday! Saturday morning at the drivers meeting Lyle and Julie tried to see if anybody would volunteer to get our trailer to the track and to my surprise two people who we'd never met jumped forward. While he was doing that I got the call that the dealer would be able to fix it but the generous offers were much appreciated. If you're going to camp at MAM (nice facilities!), a month before you expect to be there, start playing loud train horns while you're sleeping. By the time you get to MAM you may not even notice them. During the day they were going by about every 10-15 minutes (not an exaggeration) but I only heard three at night. Julie must be nocturnally train-deaf I don't think she heard any that night. What luck!

Hope to see many of you at Autobahn next month!

Joe Gilmartin