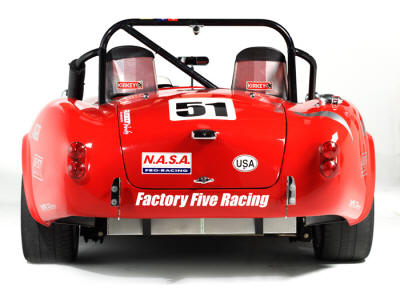 Factory Five Announces $25,000
Sponsorship for Challenge Series Racers!
Factory Five "On-Track" Program for Race Damage Protection
Feb 2006:
As the FFR Challenge Series enters its 6th year we have more drivers than ever! We wanted to come up with a sponsorship program that would keep the series going strong and help drivers keep their cars on the grid. We also have some small details to settle with respect to new sponsorship agreements as NASA launches their first-ever Nationals event. We didn't want the new season to start without something tangible for drivers.
After feedback from our new National Director, Dan Lawson, we are announcing a major program for the 2006 season.
The 2006 Factory Five "On-Track" Sponsorship program provides a $25,000 budget for replacement parts. If a driver is involved in an accident or damages his car during a Factory Five Challenge Series Race event, he can now get FFR parts replaced at no cost!

How does this work? Factory Five Racing, Inc., has set up an account with a $25,000 balance in it for racers who need replacement parts. If a racer is involved in a crash or on-track incident at one of the scheduled FFR Challenge points races, he can forward a detailed list of parts to our FFR series coordinator, Mark Dougherty. Mark will verify information with our NASA National coordinator (make sure the damage occurred at a FFR Challenge Series points race, etc) and make a determination of eligibility. If approved, Mark will write up a work order for replacement parts and forward the parts directly to the driver at no cost!
The driver must pay shipping on any parts and we will not cover fuel cells for any reason. We may need to have the damaged parts returned or proof that they were disposed of. The specifics will be detailed in the instructions from Factory Five. The total retail cost of the parts will be deducted from the total available budget until there is no money left (hopefully this doesn't happen).

The FFR "On-Track" program is designed to keep you on the track and out of the repair shop.

Racing is dangerous business. Even if you race hard and drive safe and within the limits, bad things can happen. With this sponsorship program we are trying to keep your racing costs as low as possible and helping to keep you on the track. Drive safely and have fun, and now if one of those random vectors ends up biting you, we've got your back!

Conditions:

Good luck to all the Challenge Series Racers and best wishes for a winning and safe 2006 season!

Factory Five Racing
Page last updated: 07/02/2008