FFR Drivers Run Hard at Road America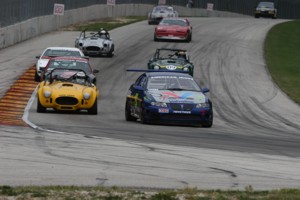 Elkhart Lake, WI -- The weekend of August 3-5, three FFR drivers, Brian Sanders (Cincinnati, OH), Ed Boothman (Naples, FL), and Lyle Riggen (Channahon, IL), traveled to Road America to test the premier 4 miles of hills and long straight-aways. Ed and Brian arrived on Friday for a test and tune with Lyle joining them Saturday for the races. Once again the Midwest region had ordered up a near perfect weekend of weather, with temperatures in the mid-eighties and plenty of sunshine. Almost, Sunday did bring the rain with it.
The Friday test and tune gave Brian and Ed two hours of track time. This was the third time Brian had visited the track and Edís first. Prior to this weekend, Brian had been the only FFR Challenge racer to run a series race at the track. So he had laid claim to the FFR track record. But these records were far from what they should be. This was evident in the very first session when Brian broke the track record by 4 seconds. Ed went out and ran times very close to the old record. Over the other three sessions of the day Brian continued to trim time off and ended up nearly seven seconds better then the old record.
Ed has struggled this year with car problems but last time out the car ran great. So this weekend, Ed really concentrated on his driving. Each session out Brian and Ed started with a lead-follow. This helped Ed to learn the line and see where he could improve. After each session, the two drivers downloaded their G2X data and compared their laps and discussed the implications of the data they saw. This proved invaluable as Ed was able to pare off time in each session and end up running within one and half seconds of Brian and almost 5 seconds faster than the previous track record. However, in the last session of the day, another gremlin reared itís ugly head when Ed was losing power at high rpmís in fourth gear. It was decided that it was fuel pump related and a new fuel pump was installed. This appeared to fix the problem.
As Saturday morning dawned, all three drivers took to the track for warm-up. Brian and Ed both ran times comparable to Friday while Lyle struggled with traffic and never put a good lap together. But this certainly changed in qualifying as he managed a lap only a half second behind Brianís lap of 2.42.504. This would end up being the fast lap of the weekend and new FFR Road America track record. Ed kept up his pace of being just one and half second behind.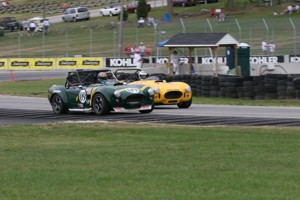 At race time, Brian lined up on the pole with Lyle to his outside and Ed behind. When the green flag fell, Brian saw an opening in front of him between an AI car and the pit wall. It was not a big opening but Brian decided to chance it and ran up the inside passing 3 cars before turn 1. This opportunity gave Brian a nice lead but short lived as Lyle tracked him down and made the pass as they crossed the start/finish line for the beginning of lap 4. Brian chased Lyle the next three laps with an attempt to out-brake and pass him into turn 5 each time. But as they exited 5 side by side and set up for 6, Brian was in a bad spot and had to yield into turn 6. Unbeknownst, to these two, Ed had retired from the race after one lap with the same problem as Friday. For the remainder of the race Brian and Lyle ran comparable times keeping the distance between them until Brian blew it on lap 11 when he overcooked turn 3 and then proceeded to downshift from third gear into fourth in turn 6. That is not a typo, instead of hitting second he shifted to fourth. That lap cost Brian almost 5 seconds and any chance at contesting the win. After the race Edís fuel pump was again removed and it was found that the ground wire had fallen off the pump.
Sunday morning the racers awoke to rain. By warm-up time it had slackened to a mist but the course was still very wet as Ed and Lyle went out to see how bad it was. There laps were 30+ seconds off the dry pace. The rain returned just before qualifying and all three drivers decided to wait it out. Since no one qualified they were positioned on grid for the race in the order of Saturdayís race finish. By race time the rain had stopped, the track was dry, and the other groups were back to running dry times.
At the drop of the green flag Brian was in and out of the gas trying to avoid the AI car in front of him. Just when he thought he could get going, he misses third gear and Lyle is off in a flash. Lyle opens up a four second lead in just three laps. After dealing with the bad start and traffic, Brian sets out to chase Lyle down. With both drivers running similar times, this was no easy task. However, Brian managed to get Lyle back in his sights five laps later. But then the excitement begins. As Brian is pushing very hard to catch up, he brakes hard into turn 5 only to find that there is no grip. All four wheels lock up and the ride begins. After finally getting the car to stop, he turns in and the car goes straight. After getting the car to turn, he steps on the throttle and the car turn perpendicular to the track. Yes, as you might have guessed, the rain had returned. Now instead of chase mode, it was survival mode and finishing the race. Once again Ed fell short of the race distance with power related issues. It would seem the fuel pump is not the issue.
The next stop for the Challenge Series racers is Mid-Ohio on August 18-19. This will be a good time for the racers to do a final tune-up for the Championships. It looks like some others from out of region will be joining us to do the same.
Cíya at the track!
--Brian Sanders