OH/IN Drivers Ride the Best Rollercoaster in North America
Grattan, MI - Even though we were hours away from Cedar Point in Ohio, we still got to ride the best rollercoaster in North America known as Grattan Raceway. Grattan is a 12-turn road course following the hilly terrain with 3 blind corners, off camber corners, and a jump into a braking zone. Couple this with the fact that there is only one true straightaway and you have a very demanding road course. Needless to say, the track was enjoyed by all but everyone was tired.
It all started on Friday, June 8 as Ed Boothman (Naples, FL) and Brian Sanders (Cincinnati, OH) showed up for a test and tune. Ed had switched to the 255 Toyo's and discovered his ride height was significantly lower. So the first order of business was to do car set-up. For Brian, this was the first time the car would see the track since his misfortunes 3 weeks earlier. As we all know, we hold our breath during those first laps after major repairs. However, the car felt perfect. With a small turn out for the day, the track ran ½ hour sessions with only one group. That made 6 hours of testing available. Most people managed to average about 3 hours since down time between sessions was needed to recoup from the physical demands of the track. Gary McDaniel (Kansas City, MO) and Lyle Riggen (Channahon, IL) showed up Friday evening. Peter LaRose (Northville, MI) was expected to show up but had problems and did not arrive until late on Saturday.
Saturday morning came early for two tired racers but the excitement of the opportunity to drive again soon breathed new life into them. It did not take long for Lyle and Gary to come up to speed. Friday practice proved an advantage for Brian as he was able to take the pole in qualifying by more than a second over Lyle and Gary. This, in itself, was amazing since Brian came in from the session complaining of not being to stop the car for turn 1. Ed missed qualifying due to some transmission issues that we later determined were shifter issues.
At the drop of the green flag for Saturday's race, Brian was able to take his pole position to the lead as Gary followed sneaking past Lyle. This order would continue until the beginning of lap 5 where Gary was able to out-brake Brian into turn 1 and assume the lead as Brian struggled to get the car to stop for the turn. As if this wasn't enough, Lyle made the same move on Brian going into turn 1 on lap 8 to take over the second slot. All three drivers continued to run nose to tail in this order until lap 11 when Brian looped his car in the esses and lost touch with the two front runners. During all of this, Ed was nursing an ailing car that would not shift into 3rd. As if once wasn't enough, Brian looped the car again on the very next lap, proving you can try too hard to catch up. In the end it was Gary taking the win with Lyle just ¾ of a second behind. Brian and Ed rounded out the field. After the race it was learned that Lyle was relegated to last place for a blend line violation, moving everyone behind him up a spot.
Brian spent time Saturday evening trying to diagnose his brake problem and Ed's tranny trouble. After driving Ed's car, it was discovered that the shifter had a catch in it keeping it from shifting into 3rd. With a little coaching and practice Ed found a way to miss the catch and get it into 3rd gear. On the other hand, Brian could find nothing wrong with the brakes and decided it must be the driver. But not leaving anything to chance, late Saturday night when Gary wasn't looking, Brian snuck a little of Gary's magic Torque Dust and sprinkled a little on his car.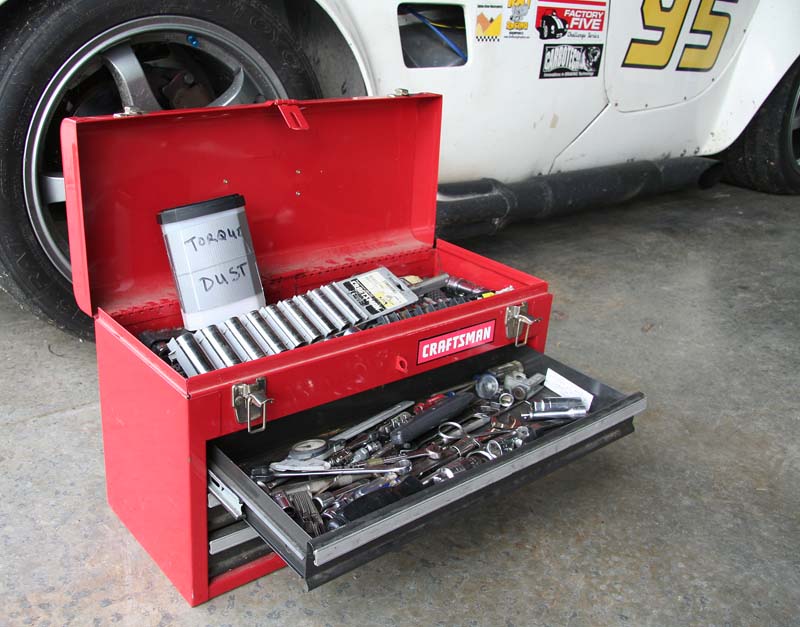 Sunday brought more wonderful weather that the drivers have had at all races this year. Since no problem was found with Brian's brakes, he set out to learn to re-drive the car. The morning warm-up was just that and more. All drivers turned the fastest times they had run so far. In the qualifying session, everyone turned it up another notch with Brian setting the new FFR track record at 1:29.540 with Gary and Lyle close behind with 30 and 31 respectively. Ed and Peter rounded out the starting grid. But this wasn't all good news. On his final qualifying lap, Lyle felt the rear of his car snap free. Upon returning to the pit, it was discovered that the 3-link frame had broke. Upon close examination, it was determined that the failure was due to hidden rust under the powder coating that caused the welded joint to fail. Even though a welder was on-site, repairs didn't go smoothly and ultimately Lyle would be sidelined for the race.
When the green flagged waved on Sunday's race, Gary got an awesome start and took the lead into turn 1 with Brian right on his rear. On the second lap, Peter slipped by Ed and took over 3rd. But it was short lived as Ed took it back the very next lap and began to pull away. Up front Gary was having to do everything he could to hold off Brian. But as he exited turn 12 onto the front straight on lap 8, he opened the door by spinning. Brian extended his lead over the following laps until he missed a shift on lap 17 and couldn't find a gear after that. "I thought I broke the tranny for sure and my race was done," said Brian. He finally found a gear but Gary was right behind him again. Call it luck or whatever you will, Brian managed to go on and claim the win followed by Gary, Ed, and Peter. After the race it was learned that Brian had set the fastest race lap of the weekend and the new official NASA track record for FFR with a 1:30.985.
The next stop for the OH/IN Series drivers is Mid-Ohio on July 14-15. This will be the second trip to this track as the drivers get ready for Nationals to be held there in Sept.
C'ya at the track!
--Brian Sanders